Pin It Now!
Yesterday was Dr Seuss's birthday and Read Across America Day. This was always a special day when I was teaching and the teachers and kids all really got into it. We had a ton going on: teachers dressing up as their favorite book character, a mid-morning snack of green eggs and ham, crafts, games, videos of Dr. Suess books, lots of read alouds, a story tellers assembly, and a school wide drop everything and read. One year we even decorated our whole hallway like a truffula forest!
So, I wanted to be sure to do something with Avery for Dr. Seuss's birthday! We didn't do a whole lot, unfortunately I realized what day it was Monday night shortly before going to bed. So I didn't have a lot of time to come up with any great ideas and get organized. But we did have green eggs and ham for breakfast and read a few of my favorite Dr. Seuss books: Hop On Pop, One Fish, Two Fish, Red Fish, Blue Fish, The Cat in the Hat, The Lorax, and Green Eggs and Ham. It was fun but I definitely want to do more with her (and the new baby) next year! Hopefully I will be more on top of it!
Did you do anything special to celebrate Dr. Seuss's birthday and Read Across America Day? Any great ideas?
Avery is 17 months old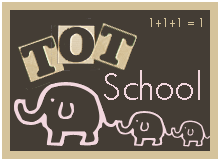 Here are some more of the Tot School activities that we have been working on for the past few weeks. Most of the ones that I have pictures of are our tot trays, since we have left those out as works for Avery to continue working on.
This is actually a work that we have had out for a long time, way before we started Tot School, it was something my sister recommended. It's simply a tub of beans with a smaller tub and materials for pouring and scooping. It is one of Avery's all time favorite works and it's great because you can easily change the focus of the work by changing the materials (before we had 3 different sized cups in it). Every time we go down to the basement that is the first work she wants to do, so it is definitely one of our go to activities for Tot School.
Also in the basement we have the container work (opening and closing a variety of containers) and a toothpicks in the parmesan cheese shaker work. However, I haven't gotten any pictures of those yet, but will post them when I have them.
I do want to mention that yes some of the works would be considered a choking hazard. But they are works that we have in the basement and she only plays with them when she is being closely supervised. All of the works that we have upstairs are works that pose no choking hazard. So don't worry, it is safe!!
Here are our upstairs shelves and works.
Like I mentioned, these are all things that she can do on her own, although she loves for us to do them with her or at least watch!
This is our beading work, however instead of the strings that it came with we use a thin plastic tube with a know tied in the bottom. Avery was having a hard time with the string and my sister recommended the tubing and it has been great!! It makes it so much easier for her and I figure we can move onto the string when she is ready for a challenge!
Avery loves to pull tissues out of the tissue box and instead of wasting a whole box of tissues I came up with this idea. It's just an old square box of tissues with some scarves in it. She loves to pull them all out, throw them in the air or have them over her head, and them put them all back in the box. Such a simple work that she loves!!
I wasn't planning on putting this one out yet but as soon as Avery saw the eggs it was all over. She loves opening and closing them (although closing them can be a challenge) and taking them out of the egg carton and putting them in. When I first introduced this work to her I put little plastic critters inside half of them and she had a great time opening them to find out what was inside. She even got to the point where she would shake them to see if something was in it and if not she'd set it aside and move on to the next one. It was pretty cute! When I decided to leave this work upstairs I took the critters out so that it would be safe for her to play with it on her own.
Well that's it for today. I'm going to try to get pictures of the last few works and get those posted soon. I'm hoping to link up to the Tot School linky this Sunday but we'll see what happens!
Have any fun, educational activities going on at your house?