Pin It Now!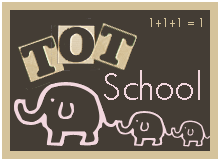 Avery is 31 months old and Parker is 8.5 months old
TOT SCHOOL
We didn't really have a theme for this week but we still had a lot of fun with Tot School.
Monday we started Tot School by making some play dough. Avery helped me do all the measuring and pouring (no pictures, it was a little too involved to have a chance to take any). Then, while we waited for the play dough to cool, we decorated some clothespins for a project I am working on (I want to make an area for Avery's artwork to hang and/or dry). I painted the clothespins over the weekend and then Avery glued on different things to decorate them. I let her choose what she wanted to use (feathers, jewels, sequins, and foam shapes) and they turned out really cute! I can't wait to see how the project comes together!
Of course we had to spend a little time just playing with and checking out the clothespins
The finished product
When we were done with the clothespins, it was time to play with the play dough. I let Avery raid my Tot School supplies and choose some materials to use with the play dough. She decided on marbles, jewels (they are the flattened marbles but Avery has always called them jewels), stones, shells, and some plastic fruit shaped ice cubes. She had a lot of fun sticking the different objects in the play dough. I had hoped that the objects would make cool impressions in the play dough but it was a little too gooey for that to work. Avery even ended up renaming our play dough, instead of play dough it was gooey dough. It stuck to everything! Although it wasn't what I had intended, it was still a really cool sensory experience that Avery loved!
What a mess! But it gave me an idea for a work on Wednesday. She loved the table washing work we did last week so much, I figured we could do another washing work, this time a dish washing work with the objects from our gooey dough playtime instead of dishes.
We started by adding some dish soap to the water and Avery whisked it until the bowl was full of bubbles.
Then she got to work washing
and rinsing.
After that we read a couple books and played with the Wedgits for a while.
My dad came over Friday morning so we didn't get to Tot School that day.
TINY TOT SCHOOL
When Avery goes down for her nap, Parker is up for about an hour before she is ready for her afternoon nap. So, we have started using this time for Tiny Tot School.
We played with a balloon!
We also played with our new ball treasure basket. Check out the post on our first 2 treasure baskets here. When Avery was 17 months old, we did this work. My mom made the pompom and Avery would practice throwing the balls in the basket. Well, it has always been a favorite so we have kept it out all this time (plus I love having balls in the house that are soft enough that they won't cause any damage if they hit someone or something). Over the last few months Parker has really gotten into it. Then for Easter she got some really cool sensory balls that we just threw into the basket with the pompom balls. Over the weekend I decided to go around the house and find all the balls that I could and add them to the basket, thus creating our ball treasure basket. Since I took this picture we've added a couple more balls too (Avery loves helping us find more).
Like the other treasure baskets, she loves it and it keeps her attention for so long!
Sometimes the basket is just as much fun to play with as the balls : )
She also loves to practice closing this toy.
She spent a lot of time trying to learn to crawl, which she started doing on Saturday.
And a lot of time practicing pulling up and standing on her own.
Linking up to:
1+1+1=1
No Time For Flashcards